Description
THEFIL – Product Description / details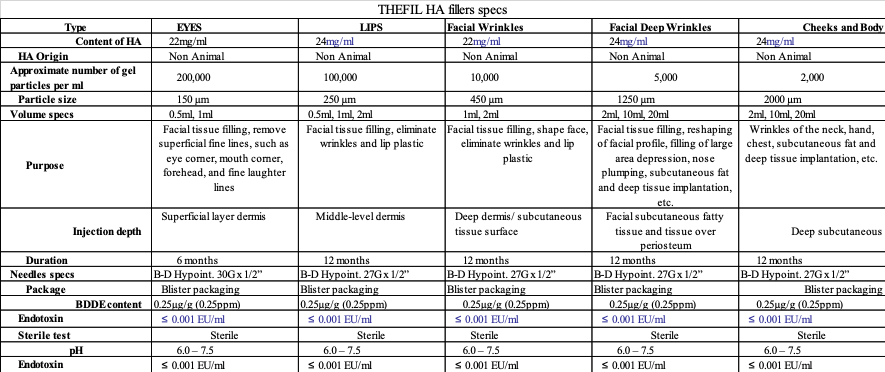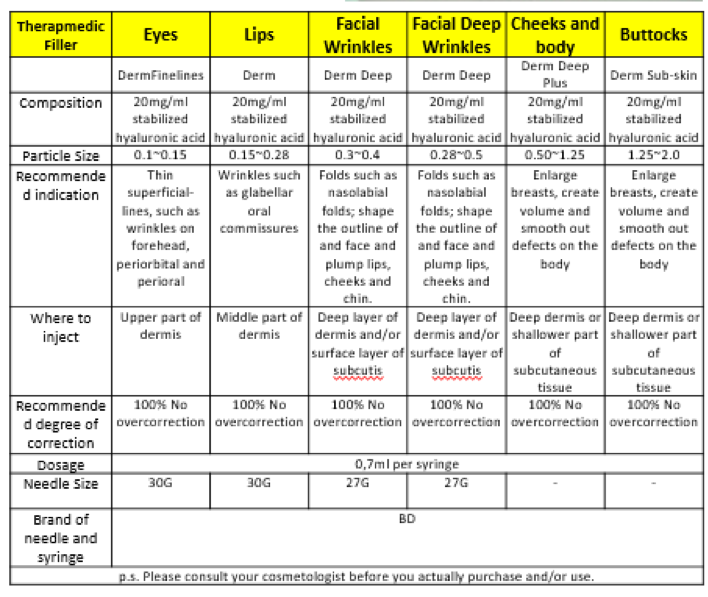 Hyaluronic acid is a glycosaminoglycan molecule (GAG), with a giant structure resulting from the union of many identical molecules called polysaccharides.
Hyaluronic acid was approved by the FDA in 1997.

D-glucuronic Acid
Hyaluronic acid is a polysaccharide macromolecule that is part of the extracellular matrix of connective tissue in all living beings.
Function:  lubricate; absorb and transport the basic nutrients in the cells.
It produces water absorption and forms like a sponge, hydrating and keeping the skin young and wrinkle free.
Location
Skin
Vitreous humor of the eye
Synovial fluid of intra-articular joints.
Umbilical cord.
Blood vessels forming part of its structure
Hyaluronic acid acts by stimulating the production of collagen, multiplying it and prolonging in turn the rejuvenating effect, which plays an essential role in the formation of stable collagen and in the organization of the extracellular matrix.
| | | |
| --- | --- | --- |
| GRADE | DESCRIPCTION | AREA |
| 0 | No horizontal wrinkles | Frontal |
| 1 | Perceptible wrinkles in the glabellar region | Wrinkles in glabella |
| 2 | Moderately deep wrinkles | Periorbital Lines |
| 3 | Deep wrinkles | Pre-auricular lines |
| 4 | Marked Deep wrinkles | Lines on cheeks |
| 5 | Very deep wrinkles | Naso genians folds, puppet lines, labiodental groove |
The hyaluronic acid has the reticulated and non-reticulated format, or what is the same, dense and fluid. In the first case its effect is more resistant to the passage of time and can last almost one year depending on the patient's life style, while in its fluid form, linear hyaluronic acid non reticulated, the duration is approximately 3 months.
To see exactly how to treat the patient please see the patient's medical history:
Evaluation of aging according to * Lamperle, Fitzpatrick or the *Glogau clasification of grades I-V. Skin phototype.
Factors such as skin type, coloration, sun exposure, previous treatments with other implants.
Background, injuries, previous QX interventions, aspirin medications, heparin. Diseases diabetes, immunosuppression.
Success will be in meeting the patient's need or approaching them without giving false expectations.